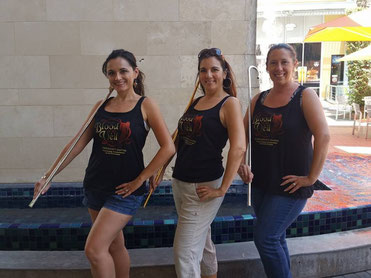 I touched down late last night in beautiful Phoenix and am so excited to meet the wonderful local dancers who have been preparing to join me in this production!
Although Blood on the Veil is a monologue, in early 2013, I added some segments that could include other performers. 
So now I am joined in every show by between four and as many as twenty local performers!!
The show begins with a dynamic emcee (Dayna, in the Phoenix show) who introduces the audience to the event, and then brings up two pre-show act showcasing contrasting styles of bellydance. These can be solos or group acts -- the only requirement is that they be of different styles.  
The local producer (in  this case, Mahin, pictured in the center, above) chooses from among the local talent, and will usually look for a Tribal act and a Cabaret act, though in some shows we've had other interesting pairings such as folkloric/oriental, shaabi/American cabaret, gypsy fusion/pop cabaret fusion, and so forth. 
The Phoenix show will feature Adrianne (at left) performing American cabaret, and Divine Chaos, performing their unique blend of world fusion tribal style. 
At the end of the first act these and other guest performers join me in a special showcase of the various props used in bellydance (made possible by the local stage manager -- who will be TC, in Phoenix), which culminates in a riveting Egyptian cane dance (raks assaya).
The Phoenix show will feature Adrienne, Mahin, and Melisula, pictured above, wearing the brand new Blood on the Veil tank tops!. 
At the start of Act 2, the audience is treated to a performance by a Master Teacher -- this is a dancer who is over age 45 and has been performing/teaching bellydance (any style) for more than 30 years. 
For audiences new to bellydance, this is a rare treat that quickly dispels any notion of bellydance being about young girls wiggling for men's pleasure. 
The Master Teachers -- in Phoenix, we are honored to be joined by the phenomenal Jazmine -- demonstrate the profound depth, skill, and magic of bellydance at any age.
Every show, I am so honored to share the stage with such powerful talent and warm hearts. 
Thank you, Phoenix, for bringing the production here! See you tomorrow night!!
This is a cross-post of an entry in Tandava's Blog: Dark Lady Dances.